Homecoming: BSC at Peterson Park
1st August 2022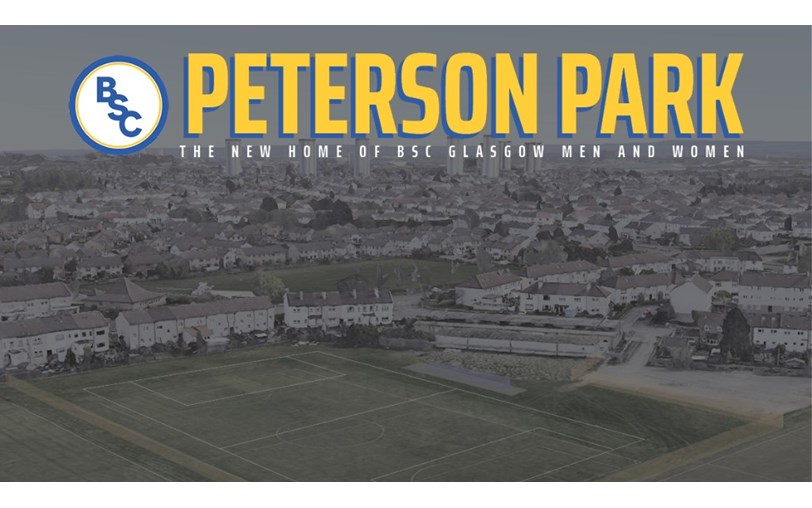 After years of struggling, we've finally managed to secure a place of our own, Peterson Park, in Knightswood, Glasgow. We're asking you all to help us not only transform it into a thriving community sports hub, but to be a part of it!
The Story so Far
We've been homeless since the beginning, way back in 2004. Not having our own facilities has drained our resources, stunted our growth, and limited our mission.
But we've finally landed our own place – Peterson Park, in Knightswood, in the west of Glasgow – and now it's time to decorate. Because although folk driving past might just see an unloved and bare grass field, to us, it's the beginning of something special.
Our Dream
We have our own dream of what grassroots Scottish football can be. We have a dream of a fan-owned club in the west of Glasgow that has male and female teams, made up of players and coaches that are both fans, members, and owners.
At our home, we'll have games that are more than matches; there will be events with a festival feel, for everyone. For the kids playing games in the halls, to the bigger kids (and adults) singing songs and enjoying refreshments pitch-side. Think of music, food, games, fun, the lot.
The Benefits of Peterson Park
1. Firstly, it will allow us to grow. It will be a focal point for our identity and the services that we can offer. The money saved by having our own pitch and not hiring elsewhere (£20k) can be redirected to our Community Sports Development Projects.
2. Peterson Park will be a unique cultural diverse space: this new project collaborates with our new friends, the Mid Argyll Shinty Club and Glasgow Gaels Gaelic Football Club who share adjoining pitches.
3. It will be a social space for children and families to play and young people to hang out. Building a team identity across the west end.
4. It will cement Knightswood's status as a hub for sport. Golf, tennis, bowls, football, and BMX biking are already bringing people into the community.
5. It protects the land from the threat of development. Closed during COVID the pitches were not going to be reopened by the City. This collaboration protects this Green space for future generations.
6. What's more, we're planning on running a food truck that will not only be a different way to make revenue, but its crucial outcome will be training and employing people with learning difficulties.
7. Local schools are already benefiting from the presence of BSC from delivering free after school Coaching sessions and we have just completed an Easter football camp at Peterson Park.
8. And finally, it will support the local economy. It will engage local people as volunteers and paid staff. We already use local businesses for our kit printing and washing. It will also benefit the local economy from increased footfall. Plus, sponsors get an opportunity to be seen by a wide range of people across the west of the City.
Where Your Money Goes
But what exactly are we doing with our new home? Well, ultimately, it's going to be a sports complex with a proper stand, and a community hall. The works, basically (See the steps outlined below in handy graphics to learn more)
However, just now we're asking you for funding with what we're calling Phase 1. It's going to cost £14,000, which accounts for a spectator perimeter, goals, stockade and player gate, planting and widening the pitch, technical dugouts, and dressing room physio tables.
Step 1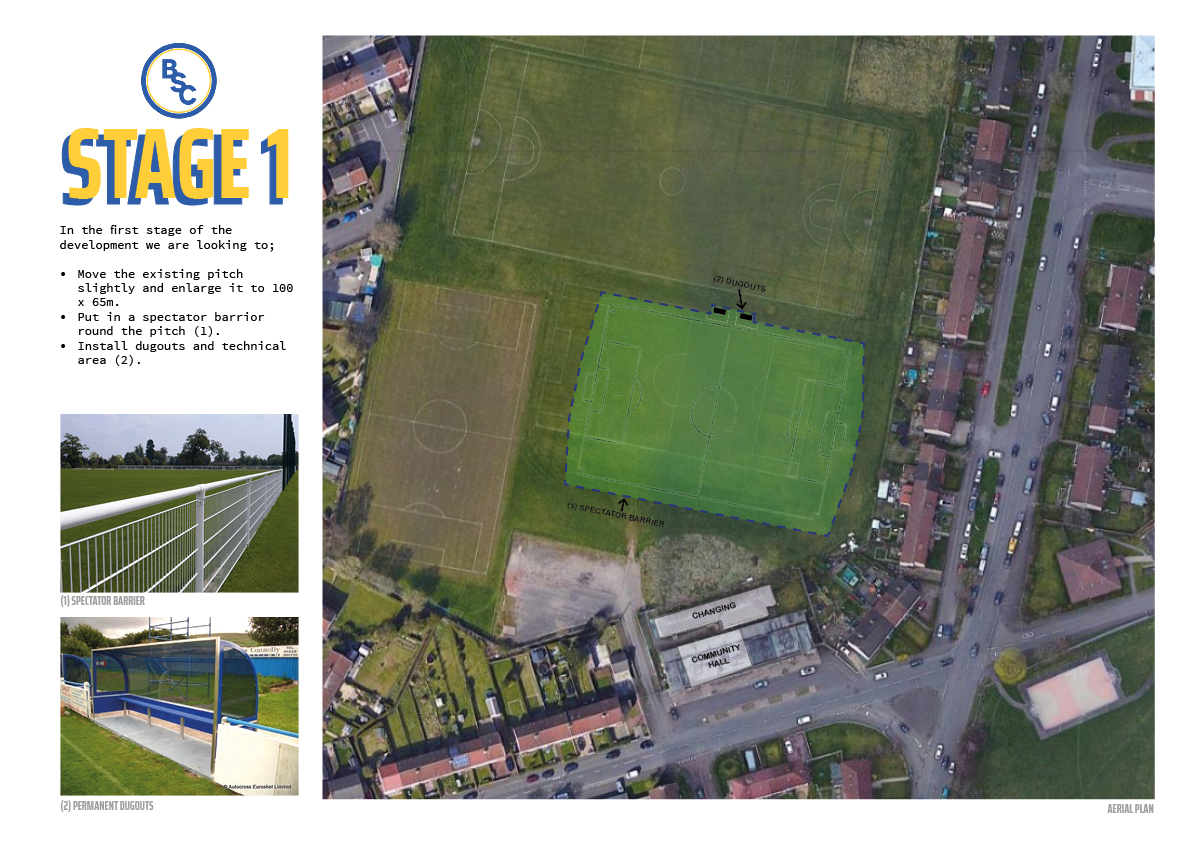 – Move the existing pitch slightly and enlarge it to 100x60m.
– Put in a spectator barrier around the pitch.
– Install dugouts and technical areas.
Step 2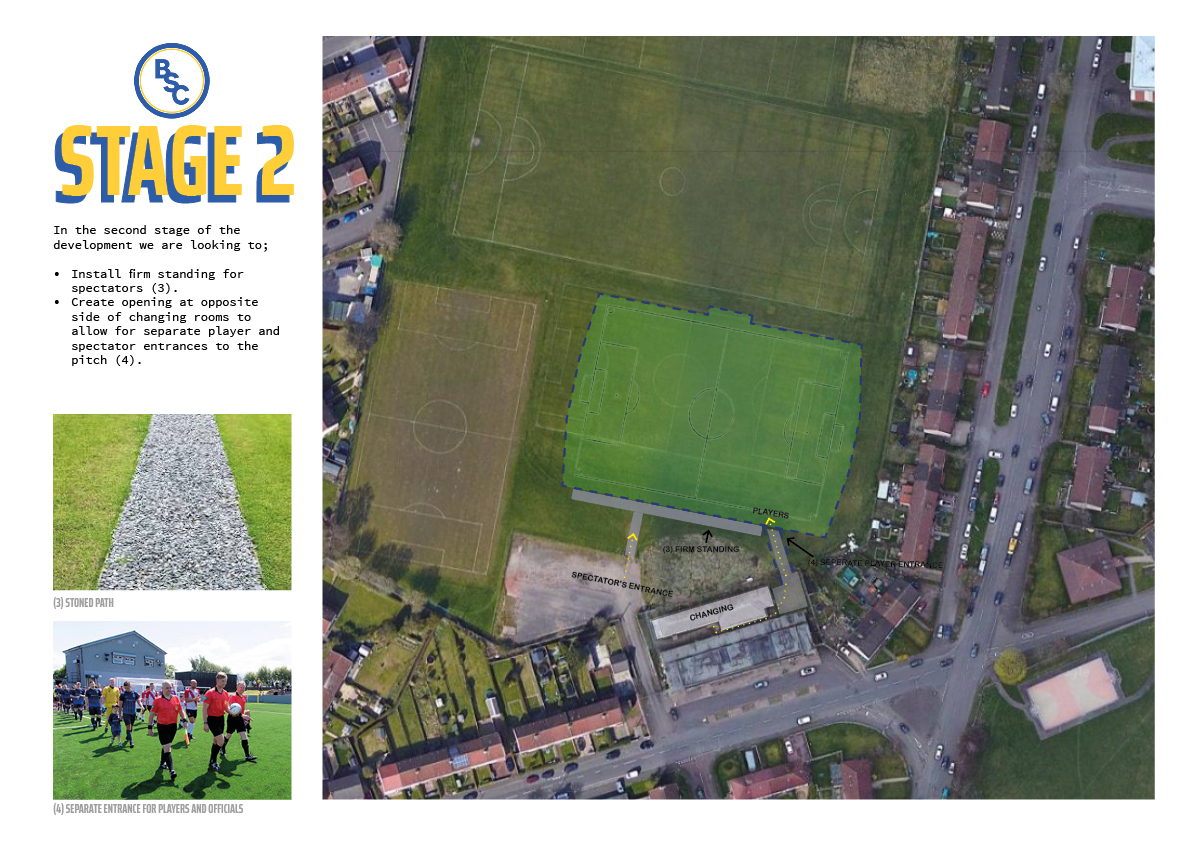 – Install a concrete plinth around the side of the pitch and surrounding slabs.
– Create an opening on the opposite side of changing rooms to allow for a separate player and spectator entrances to the pitch.
Step 3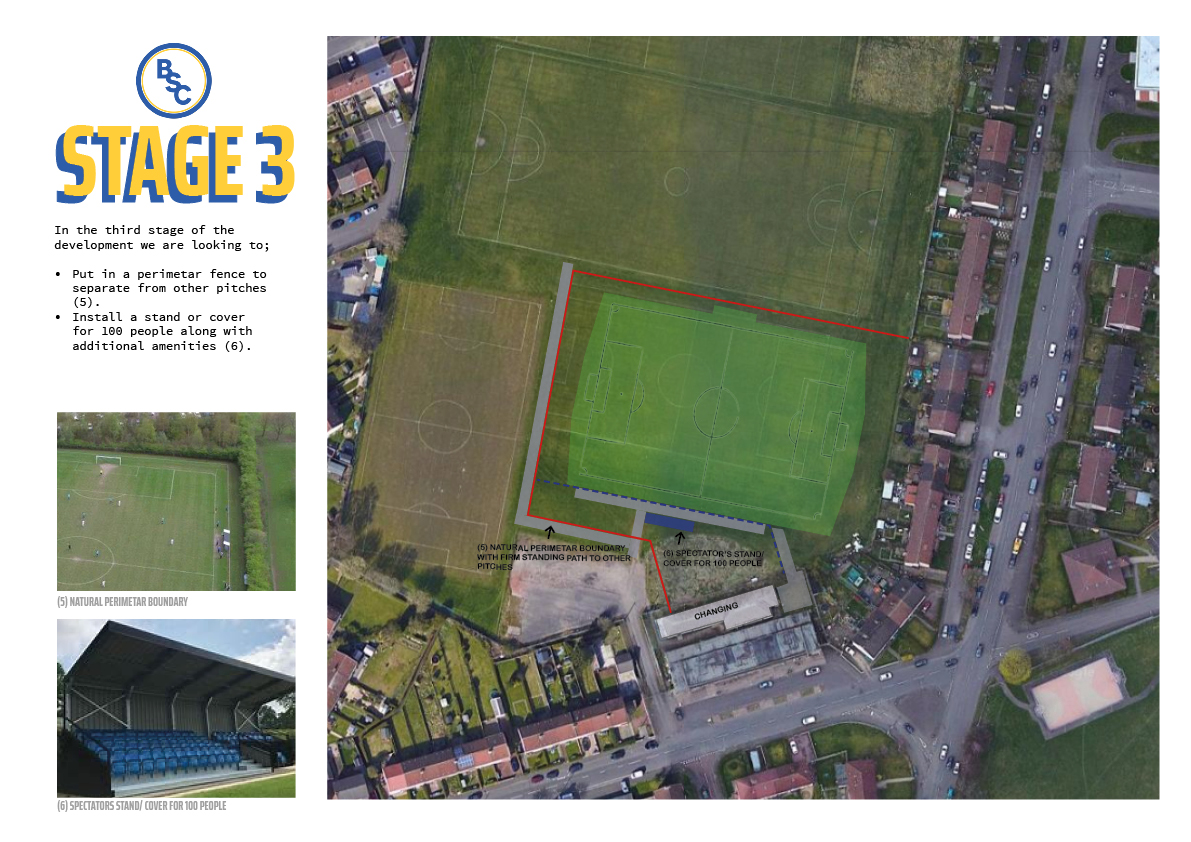 – Put in a perimeter fence to separate it from other pitches
– Install a stand for 100 people along with additional amenities.
How You Can Help
So you've heard our dream, now's the time to ask you to help us make it real; to ask you, please, for a donation. Anything you can afford will be so greatly appreciated.
But more than money, we don't just want to ask you for your help, we want to ask you to be a part of it! Come along, watch our games, and even join in; we have sports for all ages and all skill levels.
And that's it. That's our story. Thanks so much for taking the time to read. All that's left to do is share this post on your socials!