Women 5's Sponsorship Opportunities
7th March 2023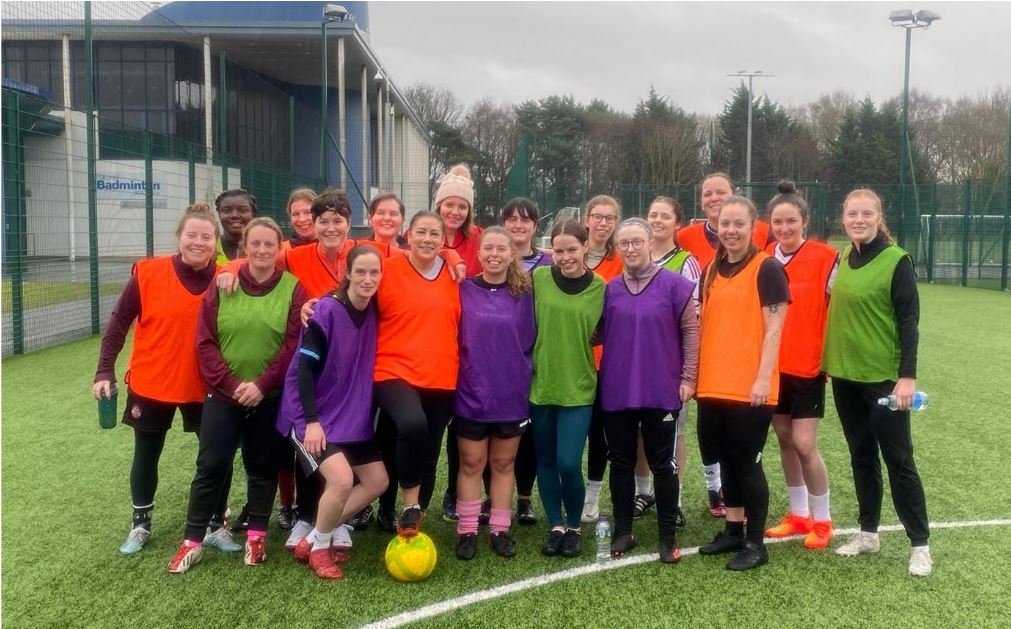 How it started
Broomhill Sports Club is a local charity in Glasgow that began in 2004 to provide local primary school kids access to team sports. Today, it has established 11-a-side football teams in the women's League One and the men's Lowland League [website]. In April 2022, the club took a leap of faith. It began funding some 5-a-side football pitches in Scotstoun twice a week, inviting women who just want to play football for fun (a surprisingly overlooked category despite the dozens of football groups around the city at the time)!
Those early sessions in the Spring were a lot of fun as, one by one, women came along to give it a go, discovering or rediscovering their love of playing football and sowing the seeds of new friendships. And even on the days that we didn't have enough players for a game of 5 v 5 we improvised with some pretty hilarious made-up-on-the-spot 'training drills'! Before long we realised that we actually had some 'regulars' who kept coming, and new faces continued to join the sessions too. And then those new faces became regulars, who then helped the new new faces settle in. Something was brewing!
How it's going!
Almost a year on and with a record 29 players turning up on a cold night in January (!!!), we are on the verge of outgrowing our Scotstoun home, but we're not stopping there! Shaking off the safety bubble of our rec sessions, we're now dipping our toes into the pool of 5 and 7-a-side tournaments across the city. One of our proudest moments to date was climbing to the top of the beginner's 7s league in February! We're currently playing at Goals in Shawlands on Saturday mornings and at Firhill Sports Complex in monthly Sunday sessions.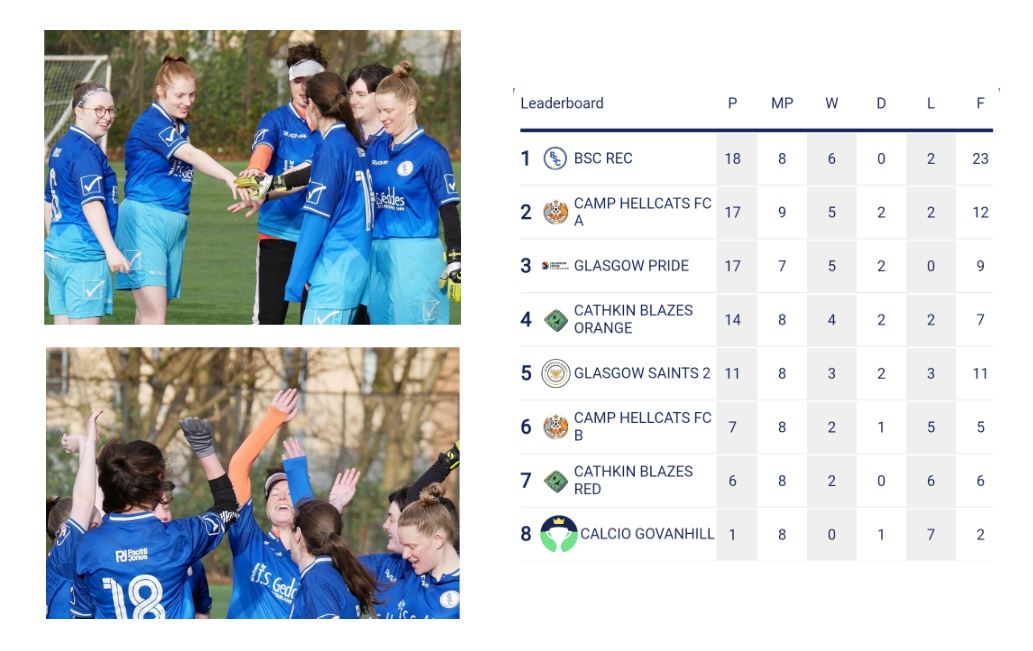 Meet some of the gang
We're a merry motley crew of all ages, from all walks of life, with a wide range of nationalities - the fundamental beauty of this group! Come along to one of our sessions and you'll be playing and chatting with students, policewomen, rehab specialists, professors, store managers, doctors, writers, social workers, lab scientists... and far too many other cool jobs to mention. Most importantly though, everyone is there to have fun and encourage each other, regardless of their background.
View PDF for more details about meeting the gang and photos: Click Here
Our Mission
The power and positivity of watching a women's football group growing so organically and with such a genuinely friendly, encouraging and inclusive vibe has been a joy to be a part of and we'd love you to be a part of it too!
Broomhill Sports Club has until now been kindly supplying us with second-hand strips from past seasons of their women's 11-a-side league team but now that we're approaching our 1st birthday it would be an amazing milestone to have some new, bespoke strips of our own! Finding a fitting sponsor to fund the strips is our mission and we'd love to wear kits emblazoned with the name of a local business like yours!
What We Can Offer
1. Your logo on our strips - Which we will wear to our 5s and 7s competitions, promoting your business in front of the dozens of players, coaches, supporters and families who attend. The competition venues & hosts all have their own social media channels too so you will be promoted to an even wider audience
2. A bunch of smiley, happy people - If you'd like to take the plunge and be the person/business who makes our day then we'd be more than happy to have some players come along to your business premises to have photos taken in our strips for your (and our) advertising/promotion materials
3. Media Coverage - We update our Instagram page regularly with photos from our rec sessions and our 5s and 7s competitions, and Broomhill Sports Club is just launched our very own page on their club website. We're also currently choosing a Player Of The Week to present with a 'goody bag' from the current sponsor (Pacitti Jones) of the women's 11-a-side team, which we then show on our social media channels. This could be your advertising spot instead!
Contact Info
Thank you for reading about our little group's journey (so far)! If you're interested in being our sponsor then please reach out to us via one of the channels below. If you're not able to be our sponsor we still thank you for reading and we hope that your business goes from strength to strength!
INSTAGRAM: @bscwomensrec5s EMAIL: lainymartin@hotmail.com PHONE: Lorraine: 07853607660